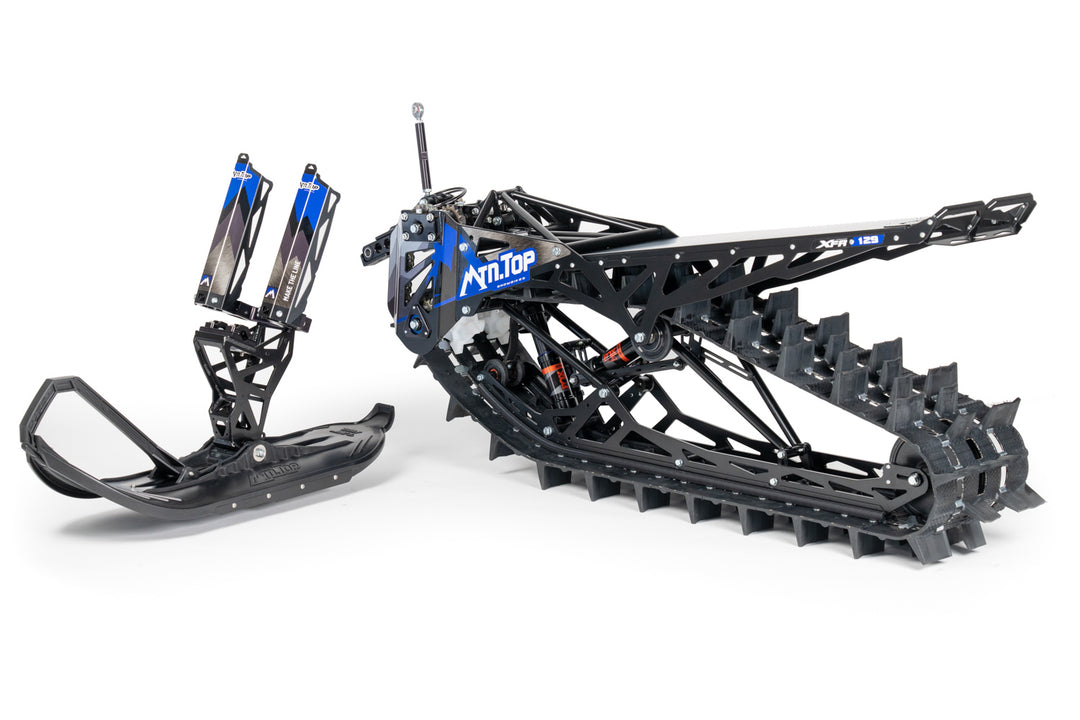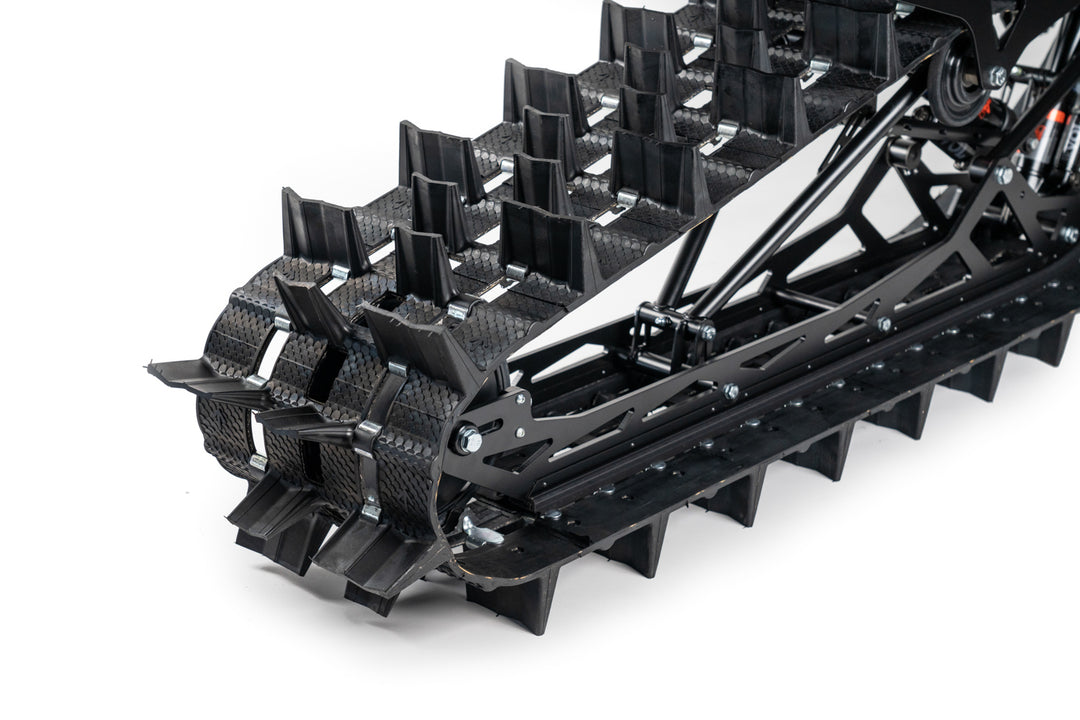 2-1/2" Track
2-1/2" Paddle
129" Long
12" Wide
2.86" Pitch
Track Weight = 34 lbs.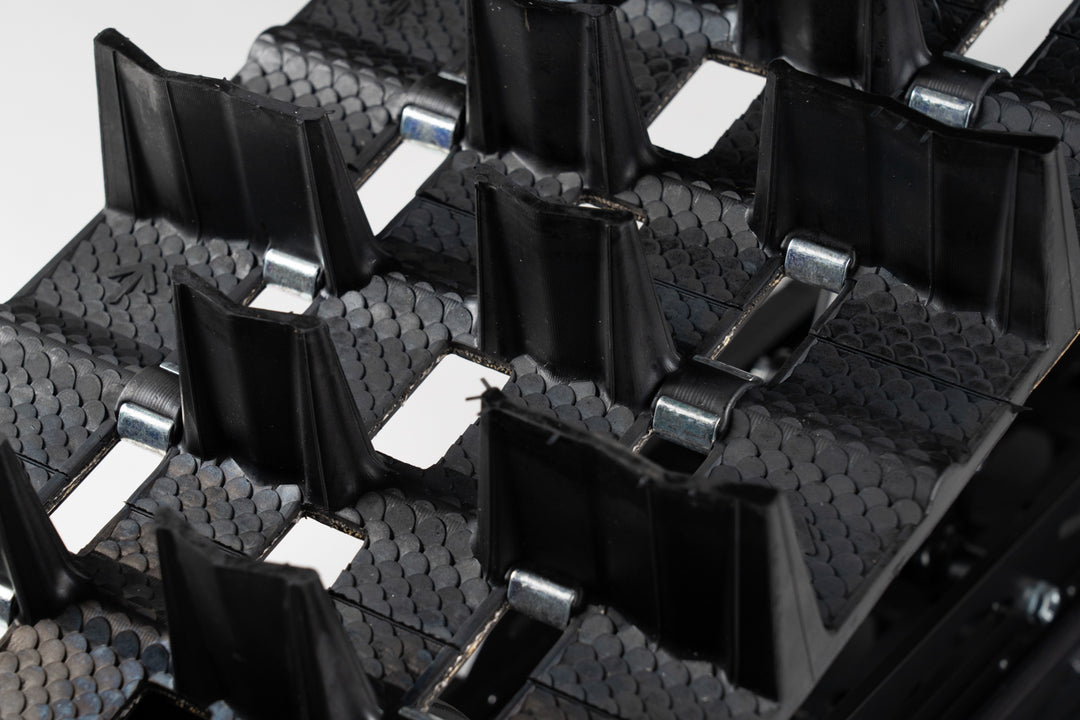 Design
Our exclusive track has been engineered with a 4-paddle design which offers a smooth rotation for efficiency and track speed. Additionally, our V-paddles grab and scoop the snow for maximum snowbike traction. Using a multi durometer designed allows the paddle to flex for deep snow lift without fold over.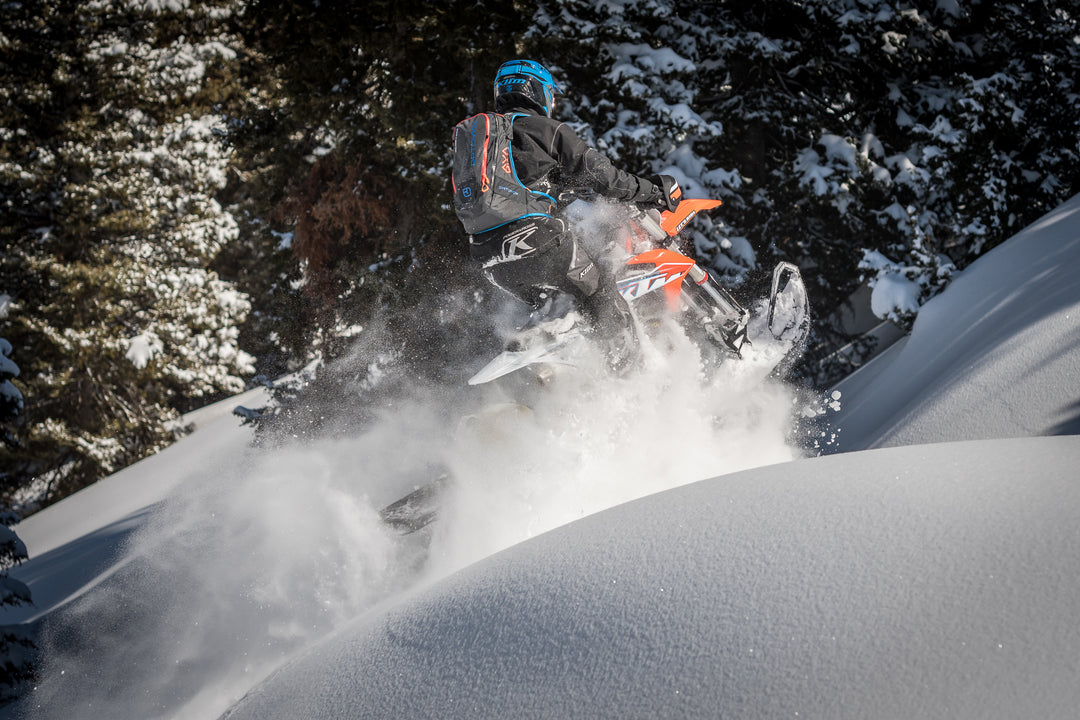 A Force to be reckoned
Do not rule out the 2-1/2" track because there is a bigger option available. The 2-1/2" gives a more freed-up feel while climbing, with its ability to hold a higher RPM and track speed. This can be more forgiving allowing you to be in higher gear. In some snow conditions it can outperform the 3-1/4" simply by out speeding it.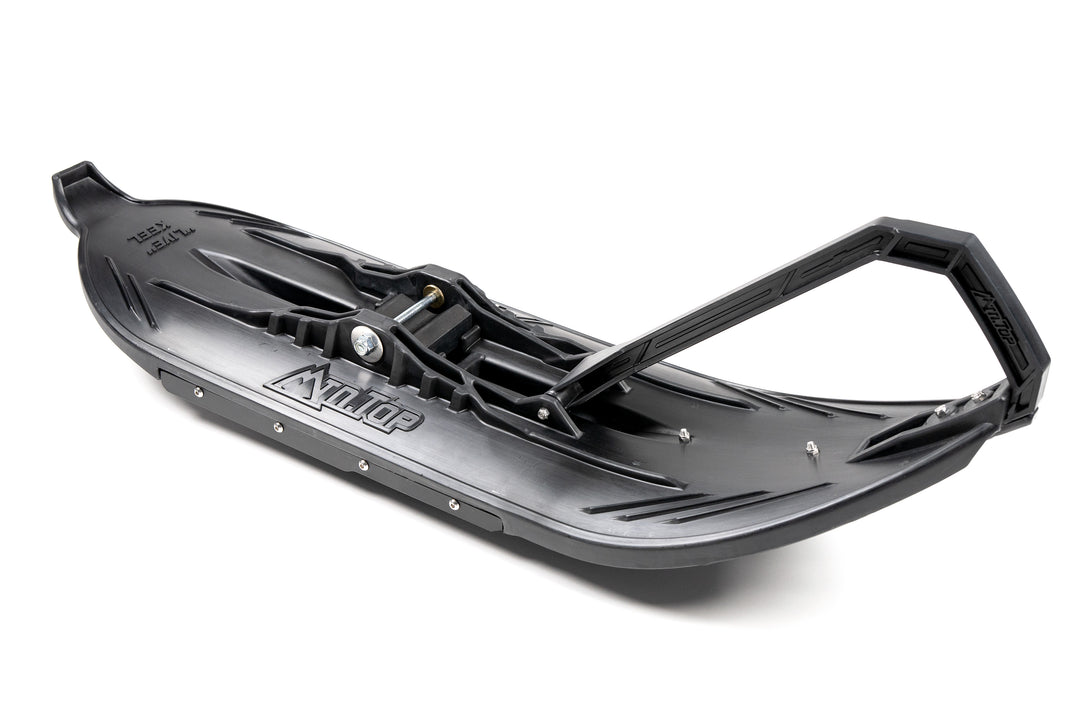 Ski
11-1/4" wide x 42" long x 12 LBS.
Tri-Keel design.
Live center keel that moves
Semi-parabolic shape
Heat-treated steel skags
Strong, yet flexible design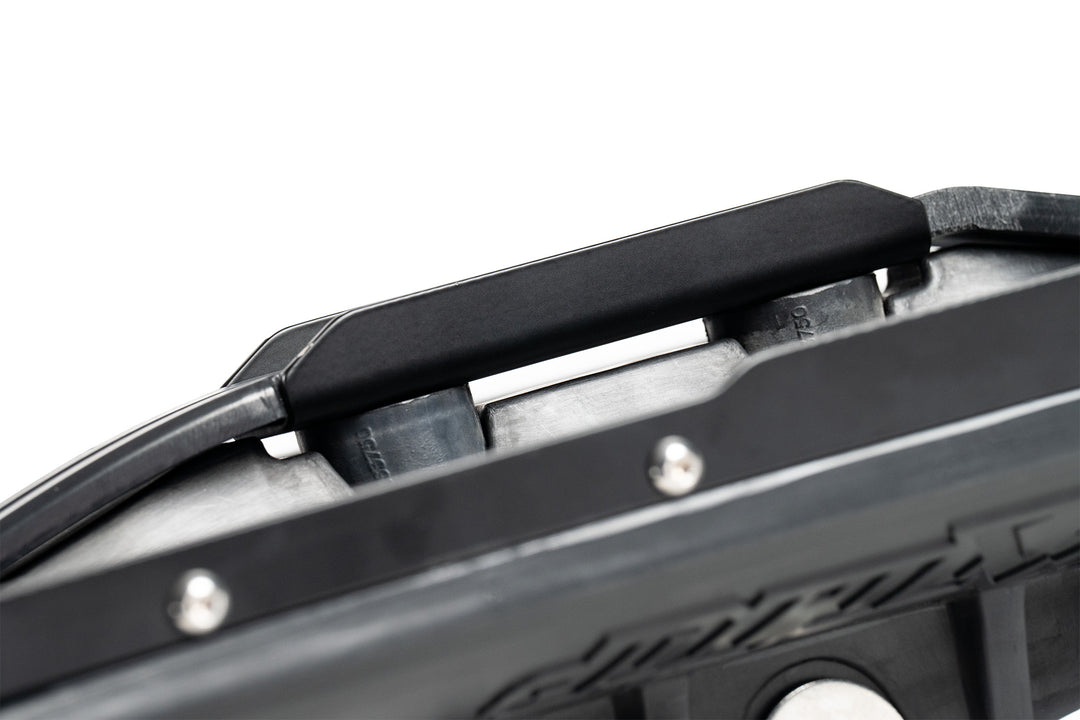 Live Keel Technology
The MTN.TOP ski has an independent plastic runner that is suspended off the center keel with 2 rubber bumpers. This allows it to lean and flex side to side so that it can stay connected to the ground, much like a rubber tire would. This allows for a significant improvement on less than perfect snow, such as trails and frozen conditions.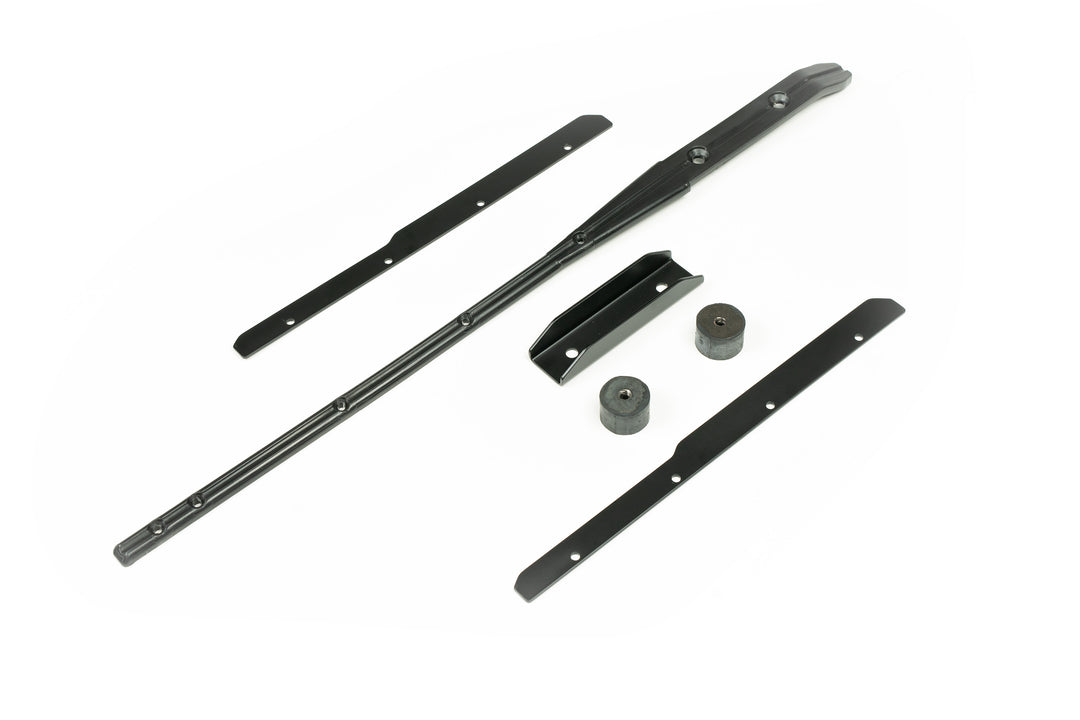 Rebuildable & Tunable
The Live Keel ski is re-buildable when it gets beat up. All parts are readily available and are priced affordably. For the guys that like to tune, there are a variety of different size ski skags available for tuning it for various snow conditions.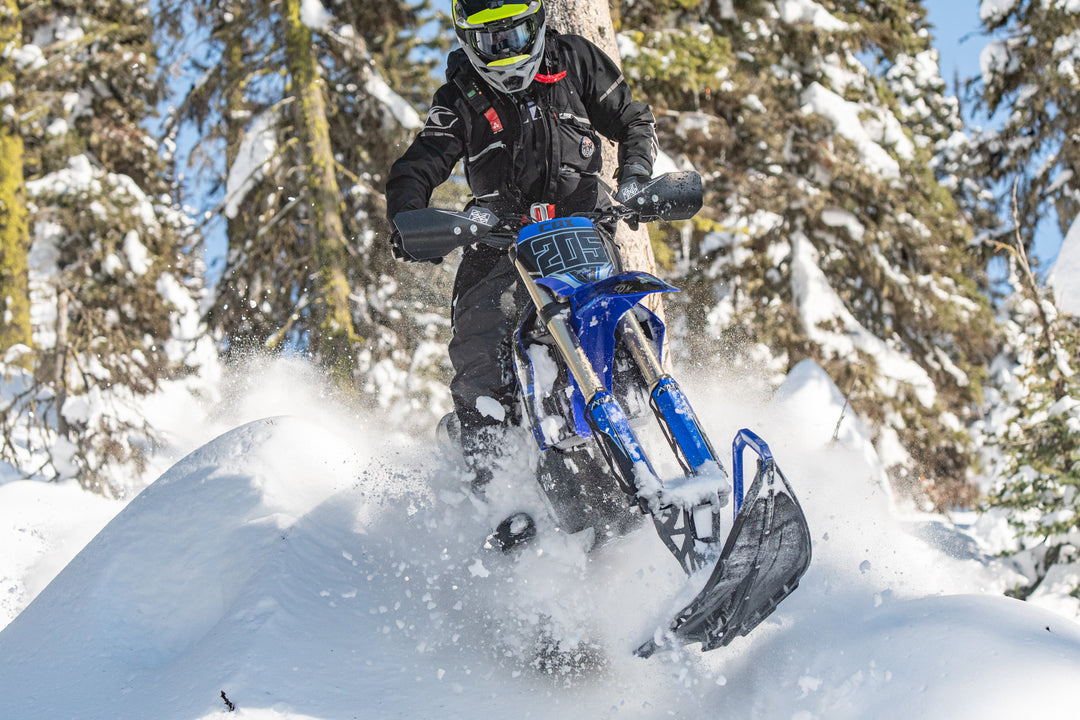 Ski History
The tri-keel design was originally developed by Allen Mangum years ago and is still the standard for all manufactured snowbike skis today. The big difference now on the MTN.TOP Live Keel Ski is the center keel can flex side to side as you lean the bike. This is not new technology; it came from one of the founders of the sport many years ago (Tim Jorden) and then was taken over by Pro Moto Billet as an aftermarket kit that you could add to an older generation Simmons ski. Now MTN.TOP has taken it over and is building it into a production ski.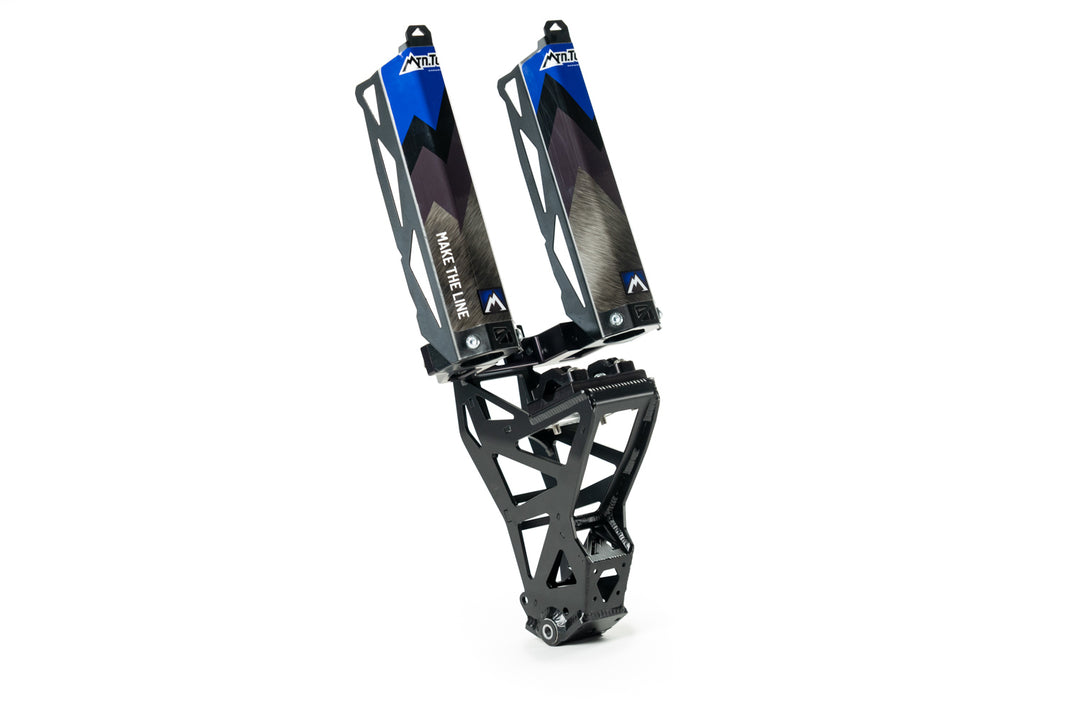 Spindle
Universal Fit
Fits all modern full size dirt bikes
Built to have optimal geometry
Integrated Fork Guards
3 Integrated mounting points for aftermarket accessories.
Spindle Weight = 7 lbs.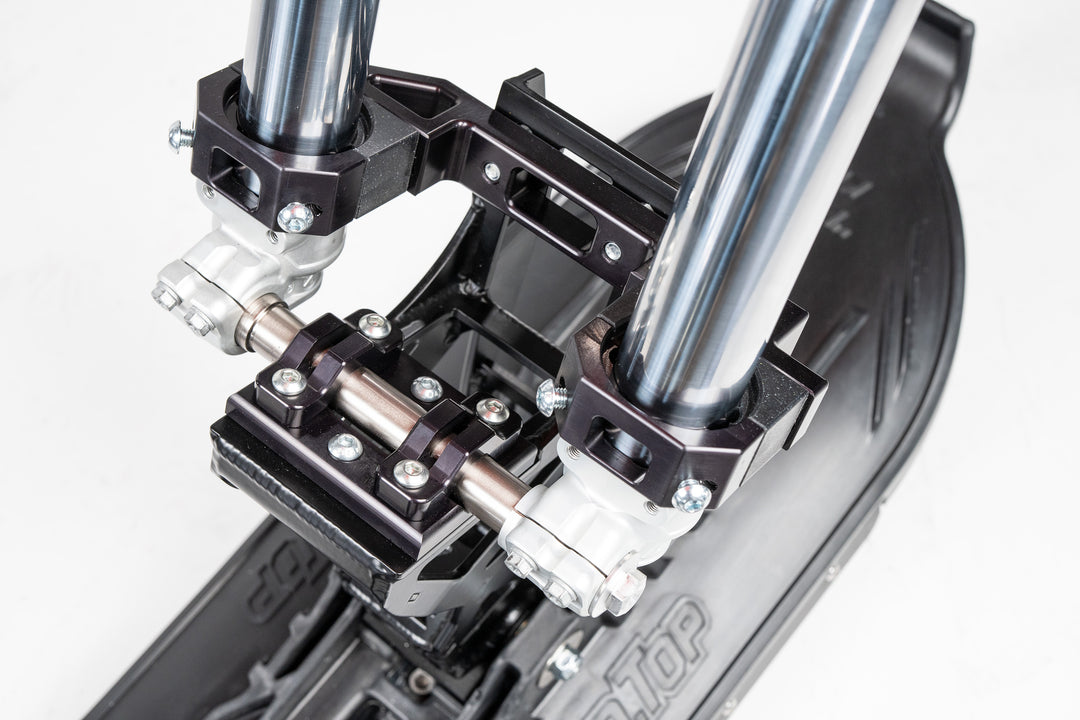 Design
The spindle is a 100% universal fit to ALL models of dirt bikes (no fitment parts required). It is designed to fit on and have optimal geometry for mountain riding. The spindle has a unibody design that is made of TIG-welded aluminum. The fork clamps assembly mount on from the back side of the fork tubes verses from the side like on other snowbike kits. The plastic rear cushion-clam clamp is the key component to protect the fork tubes from impact damage.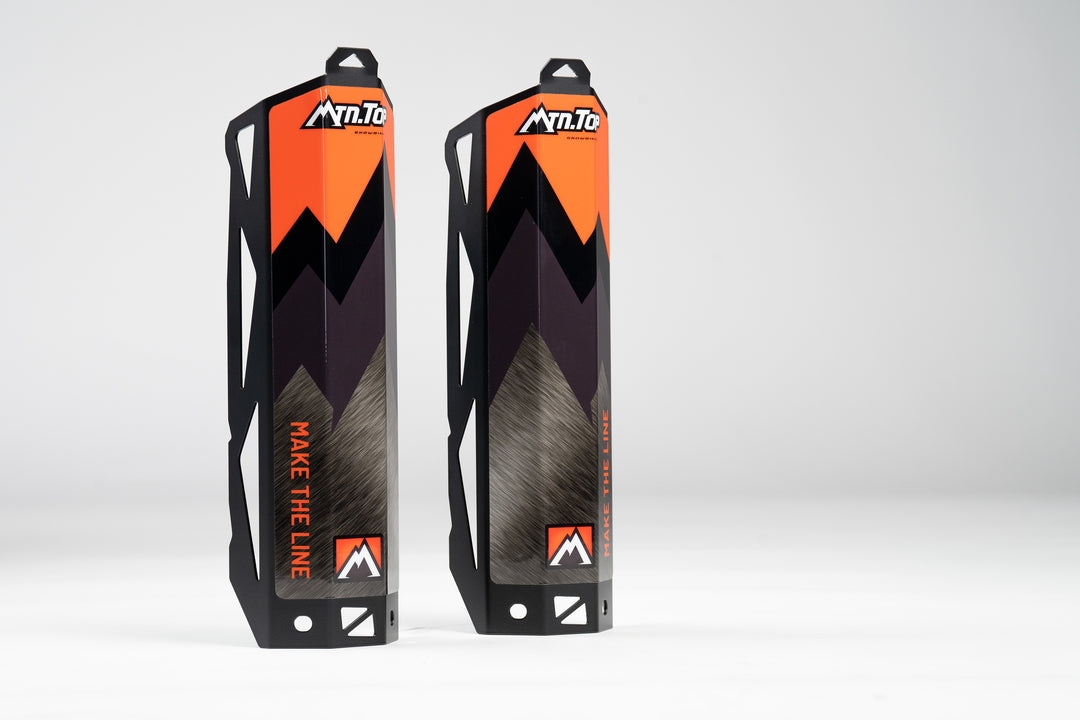 Integrated Fork Guards
Our integrated fork guards mount directly to the fork clamp assembly and are constructed of .080 aluminum, making them very strong. We have specifically designed them to clear out snow so that they do not pack up and damage the bikes fork seals.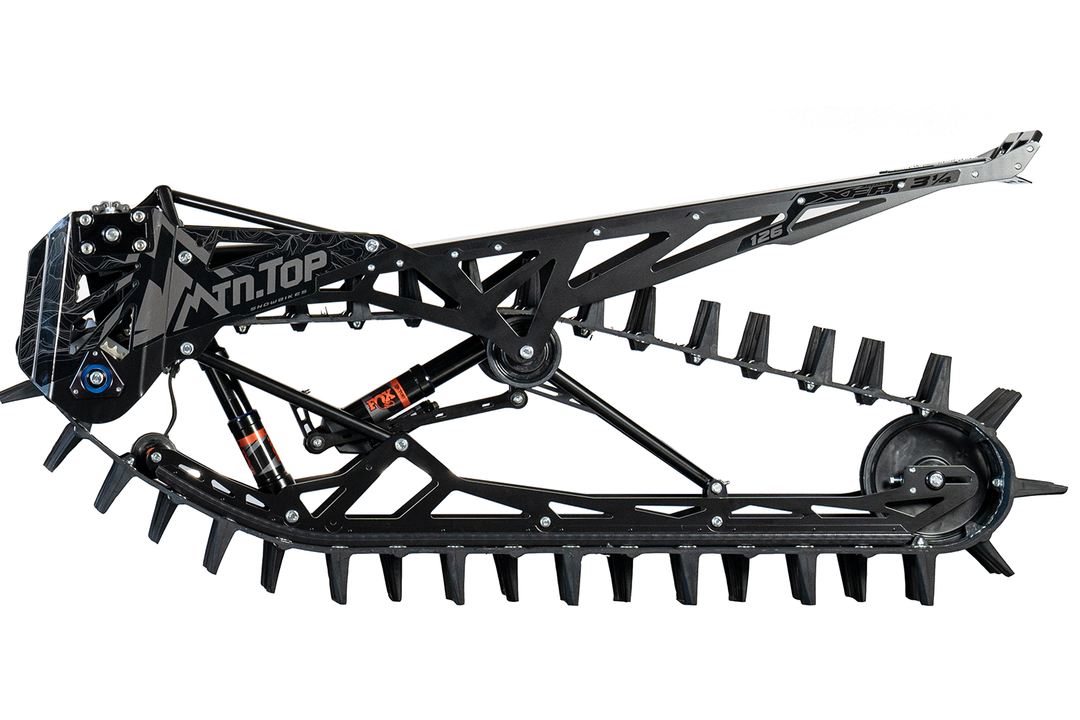 Rear Suspension
The design has stemmed from years of experience developing suspensions. Our design is more like a snowmobile suspension than a traditional snowbike suspension. It offers a superior ride quality that is supple and smooth. The geometry allows the weight to sit on the rear suspension and not onto the forks thus promoting 50% lighter ski pressure. This makes the snowbike easier to turn and less fatiguing to ride.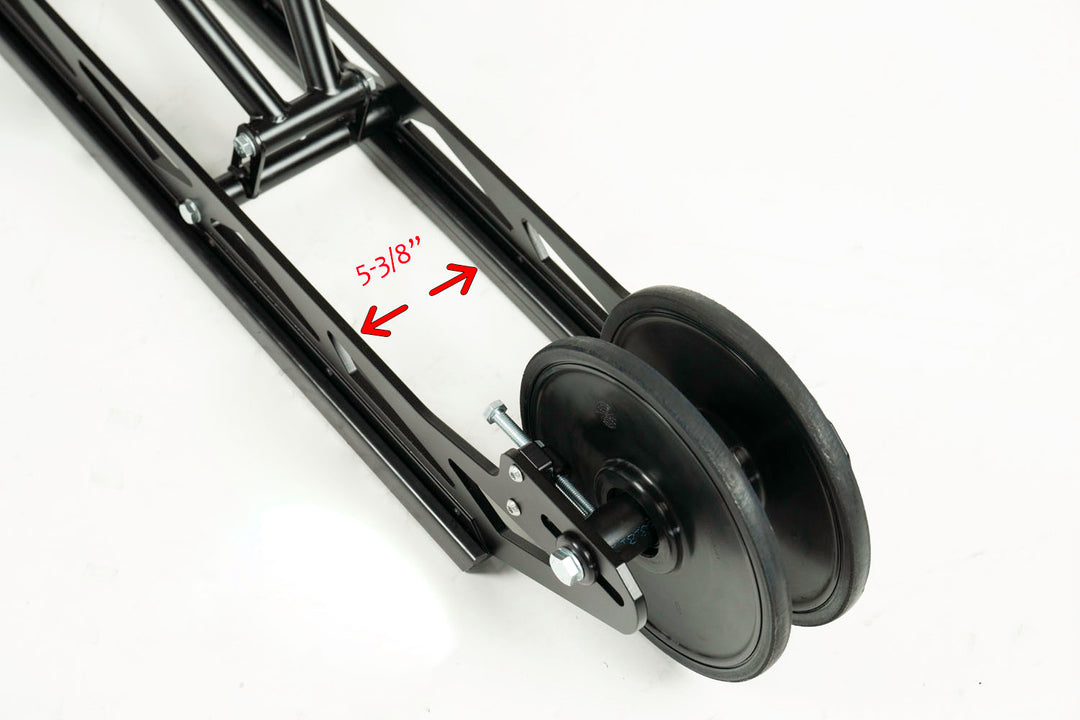 Narrow Rail Spacing
The suspension has a narrower 5-3/8" rail spacing (vs 8-5/8" of a snowmobile). This narrower stance allows you to throw the bike from side to side quicker giving it a lighter more nimble feel in all conditions from trail to mountain.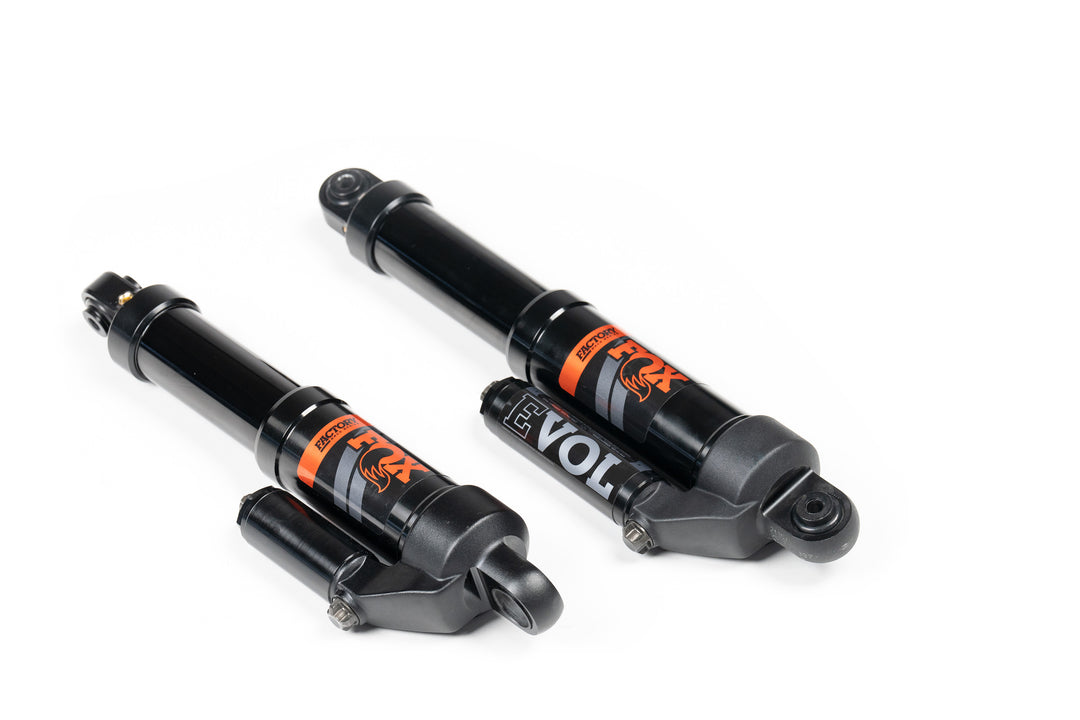 Fox Shocks
FOX FLOAT EVOL shocks come standard, with spiral fluted Internal Bypass technology and internal negative springs. These shock are different than traditional shocks due to their position sensitive dampening. This make them much smoother. New for 2024 we have updated the calibration for an even smoother ride. Note: upgrades are available for 2023 models.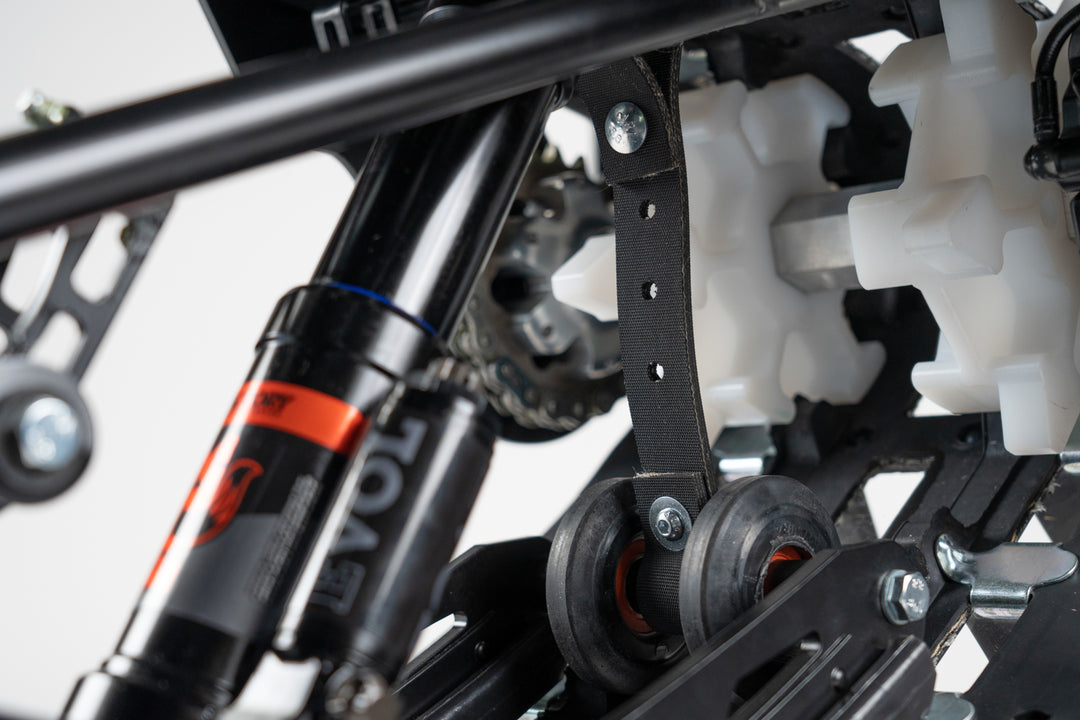 Limiter Strap
New for 2024 we have added a front limiter strap to give a quick and affective adjustment point. Let the strap out for the lightest overall feel and best ride quality. This will also allow you to pop up the front end more easily. Pull up the strap for an improved deep snow climbing performance and to keep the front end more planted. Note: This part can be added to 2023 models.
Title
This is the block text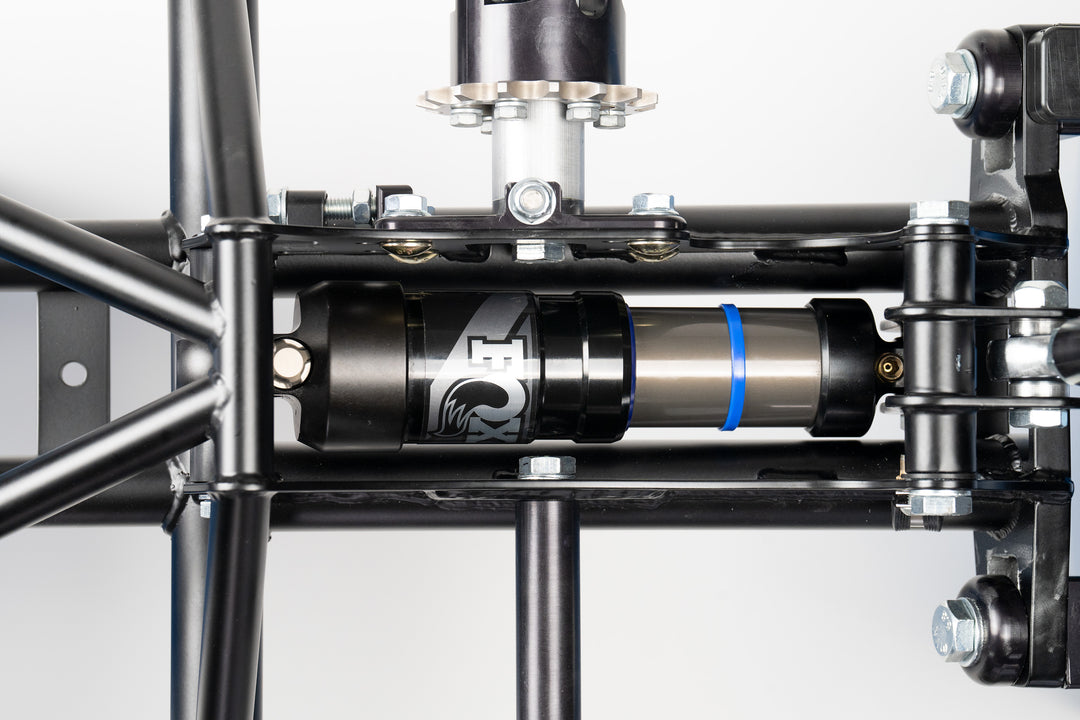 In-Frame Suspension
The in-frame suspension is standard on all MTN.TOP snowbike kits. It provides a secondary suspension point to the kit. It allows the entire frame system to work like the swing-arm on a traditional dirt bike. It works in harmony with the rear suspension to provide a ride quality that is second-to-none.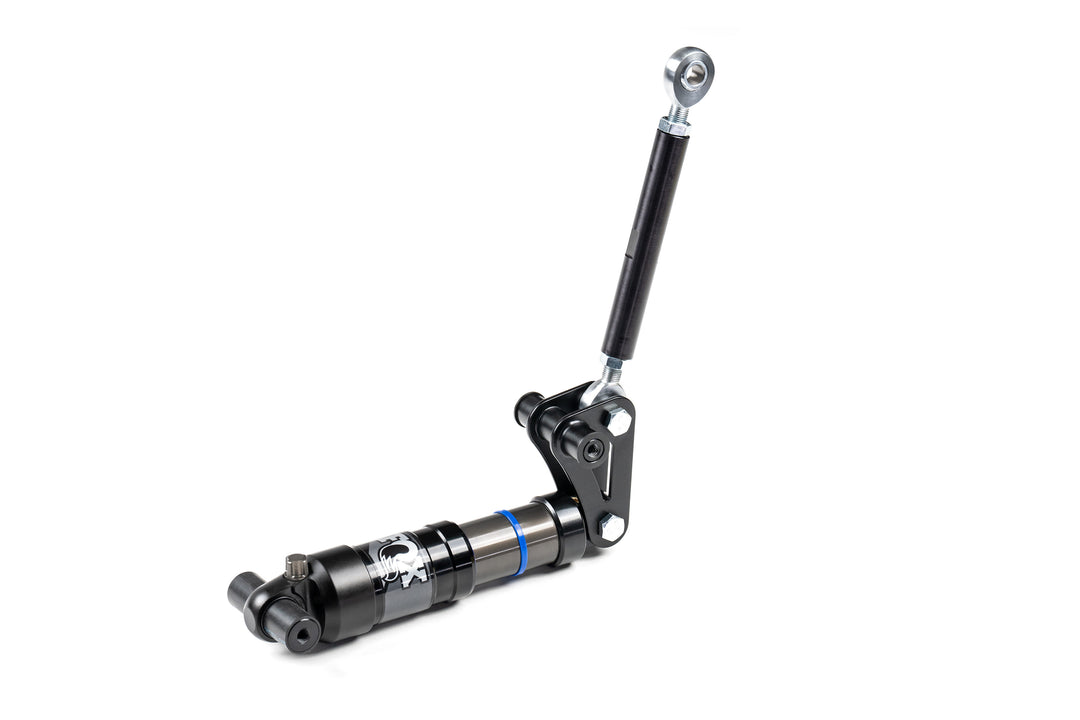 FOX Shock
Our in-frame suspension centers around the FOX Float 3 shock, which is fully adjustable with a wide range of pressure adjustments, easily accommodating riders from 100 to 300-lbs. It gets its strength by using a linkage system to drive the shock at a 4:1 ratio.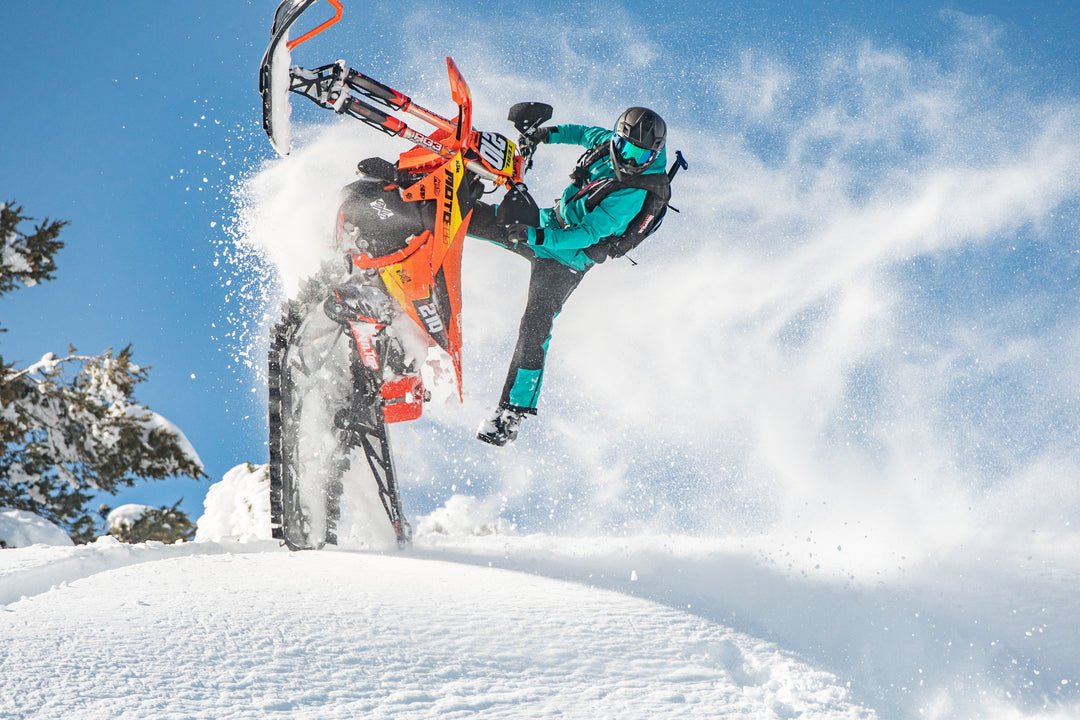 How it Feels
The design has stemmed from years of experience developing suspensions. Our design is more like a snowmobile suspension than a traditional snowbike suspension. It offers a superior ride quality that is supple and smooth. The geometry allows the weight to sit on the rear suspension and not onto the forks thus promoting 50% lighter ski pressure. This makes the snowbike easier to turn and less fatiguing to ride.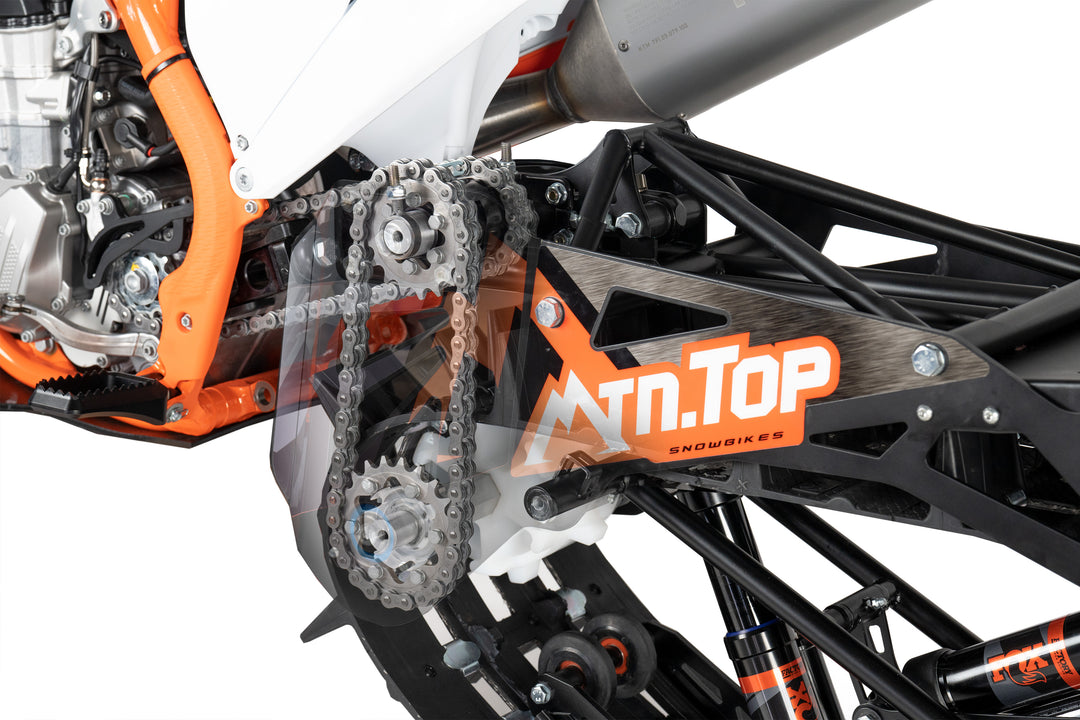 Drive System
The Drive System is engineered for efficiency, simplicity, and reliability. Using chains that run on the inside of the tunnel verses the outside helps us to achieve this. The difference is immediately noticeable on your first ride. Adding to that, our slender design is narrower and slips through the snow efficiently.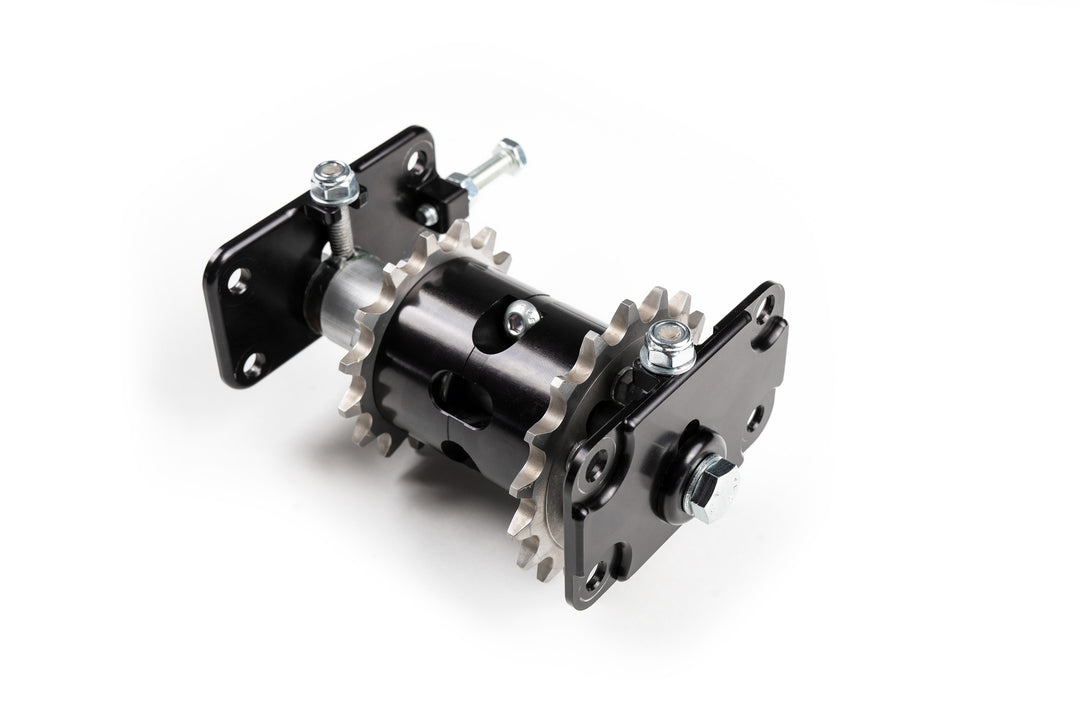 Jackshaft Hub
The hub system is unique with its lightweight rotating mass and 2 way adjustments, for chain adjustability. This design allows the chains to run in a straight path with no sliders or rolls causing resistance. The sprockets are made of heat-treated steel and are bolted on for easy removal. Gearing options available.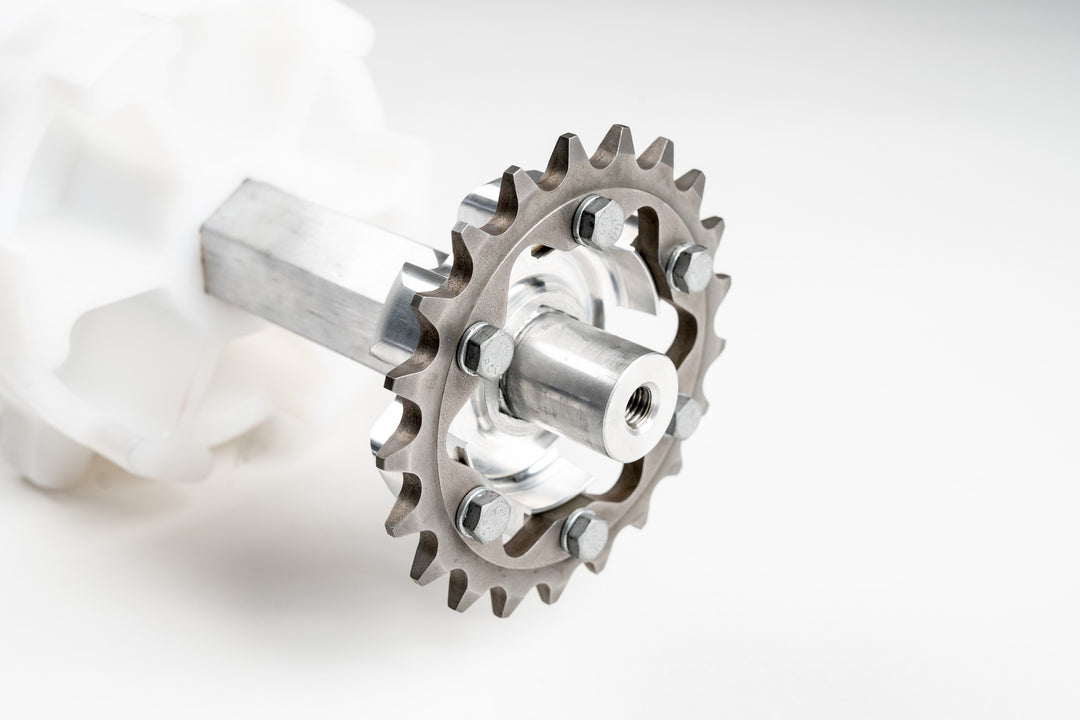 Drive Axle
The drive axle is lifted in the chassis to create additional ground clearance. This make for a smoother ride and better flotation due to less drag through the snow. The axle and hub are made from aluminum and the sprockets from heat treated steel. This makes the rotation assembly very lightweight. Gearing options available.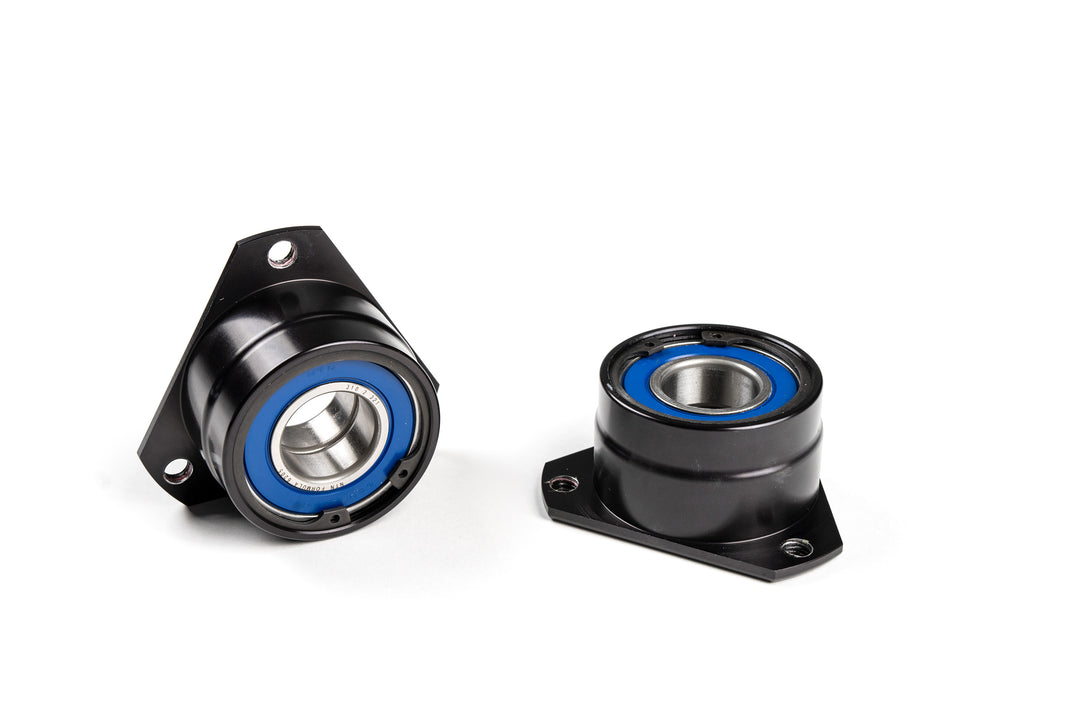 Bearings
Dual, 25mm (#6205) NTN Formula snowmobile bearings are used on each side. The bearings are pressed into aluminum housings that are precision fitted through the tunnel sides. This is a very strong, reliable system that will last the life of the kit.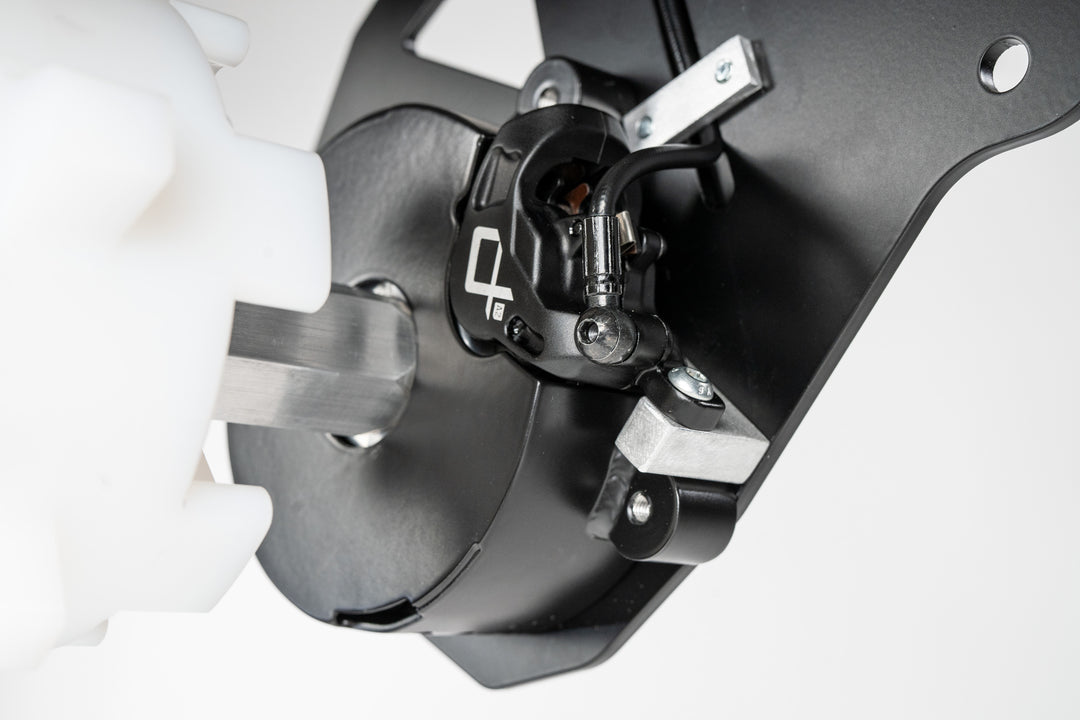 Brake System
Using a Hayes Dominion-A2 hydraulic mountain bike disc-brake system. It comes fully bleed and ready to use. The system is mounted to the drive axle and is fully covered so that you have consistent braking performance in all snow conditions. The lever is fully adjustable to fit any hand size. You can expect full track-lockup with a single finger squeeze.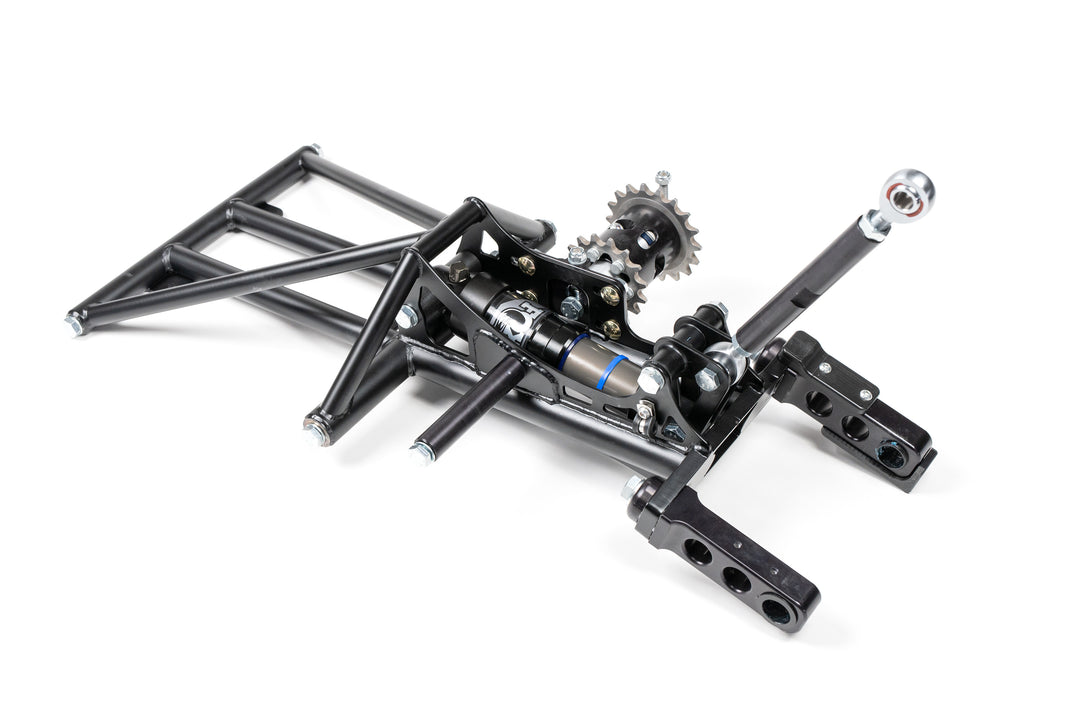 Frame
Our frame is an extremely strong design that houses a lot of functionality to the snowbike kit, all in one, compact package. It has adjustability built-in for a unique, no-modification installation to the bike.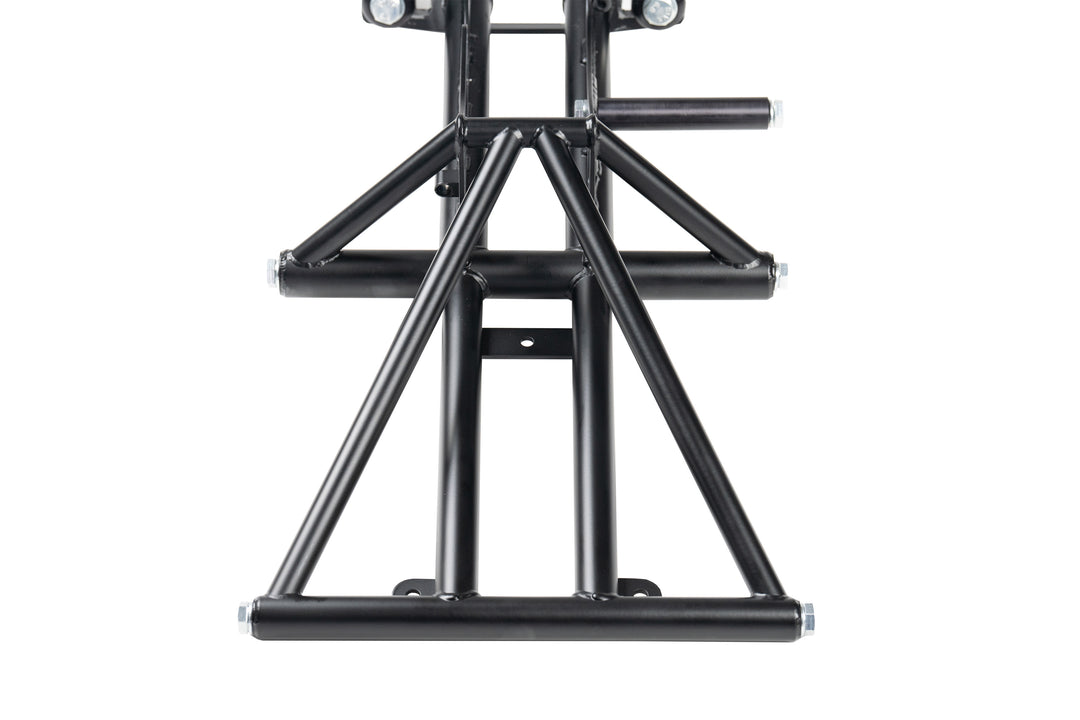 Construction
Built from multiple diameters and thicknesses of welded chromoly steel. The design allowed us to keep it streamlined, lightweight, and strong.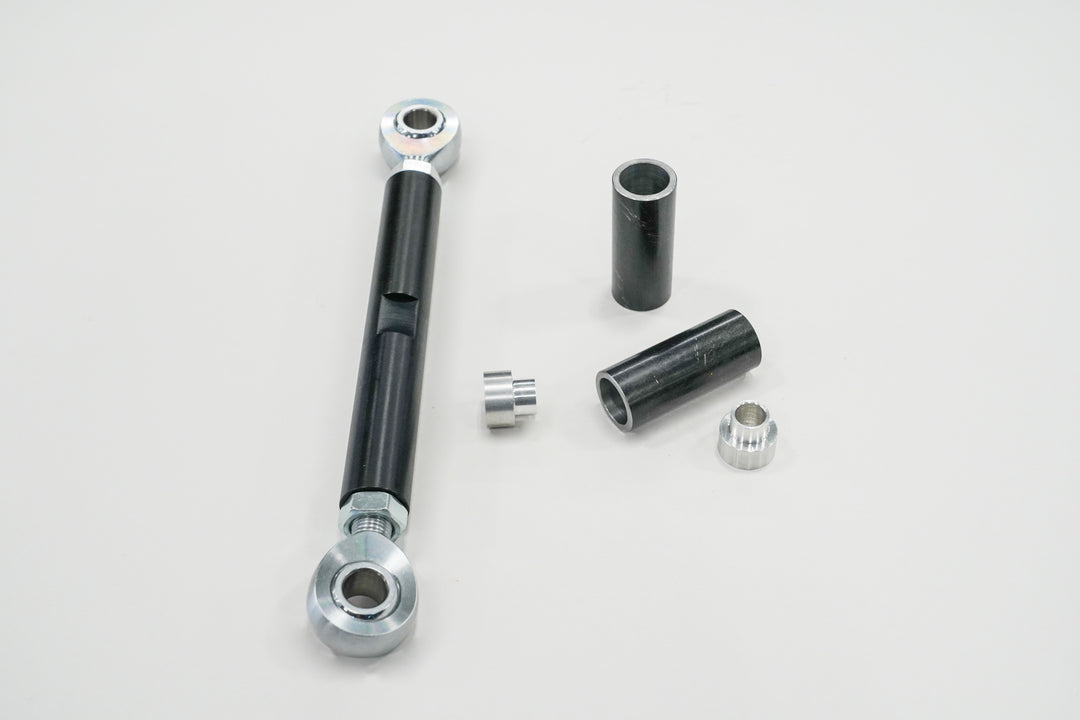 Installation
Purchasing a MTN.TOP snowbike kit means you get EVERYTHING you are going to need. Your kit will include all fitment parts needed for your make and model dirt bike. Fitment kits can be purchased separately by contacting a MTN.TOP dealer.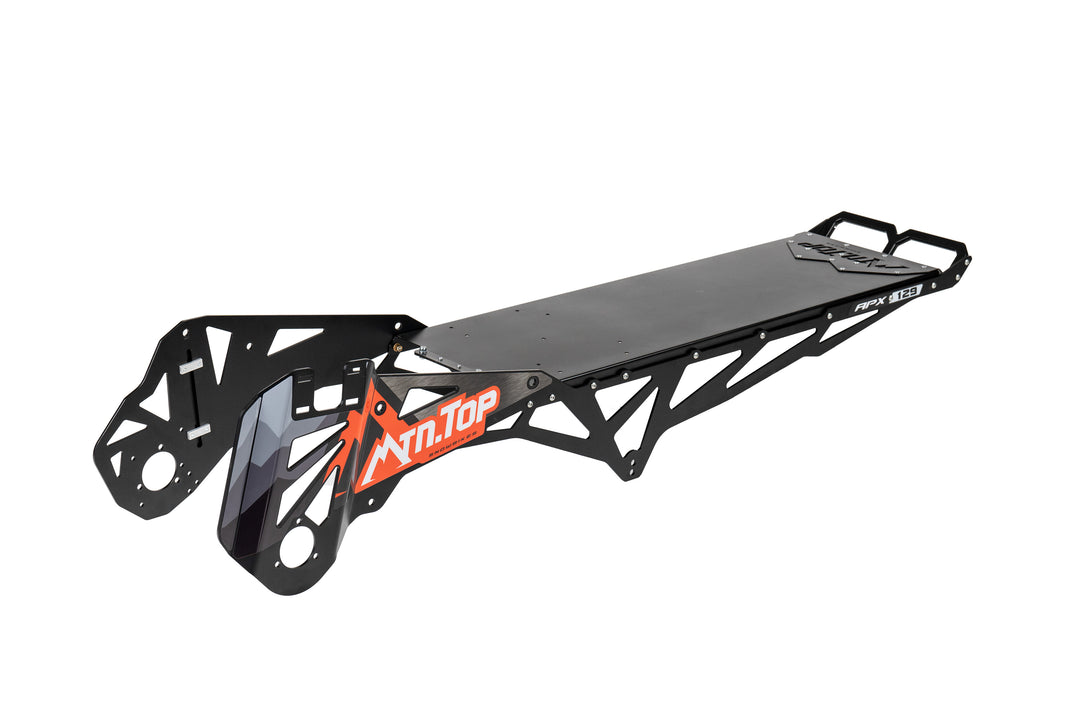 Tunnel
The tunnel assembly was designed with a streamlined shape in mind to minimize snow-drag and maximize performance. A three-piece aluminum design that bolts together simplifies the ability to work on it. The rear bumper sticks up at 45-degree angle making it easy to grab and hold on to. The tunnel top is flat making it simple to mount accessories to.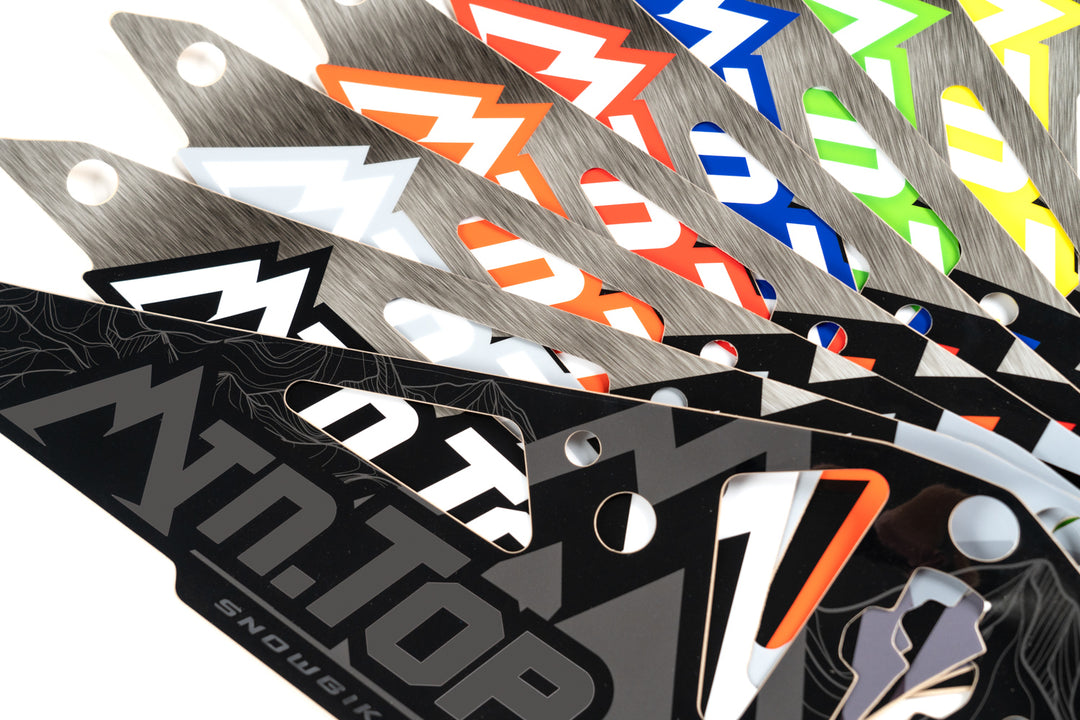 Graphics
Your MTN.TOP Snowbike purchase includes your choice of any one of our 8 color options. The graphics are high-quality vinyl with a clear laminate for maximum durability.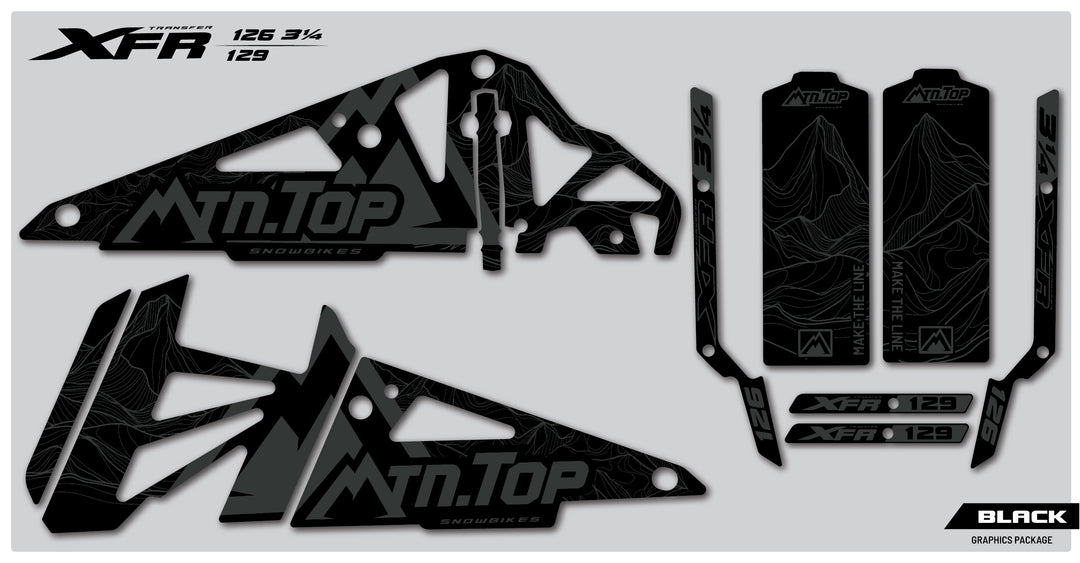 New for '24
New For 2024, we have a "Bold New Graphic" option. It is Black on Black with a faint topo line theme in its background.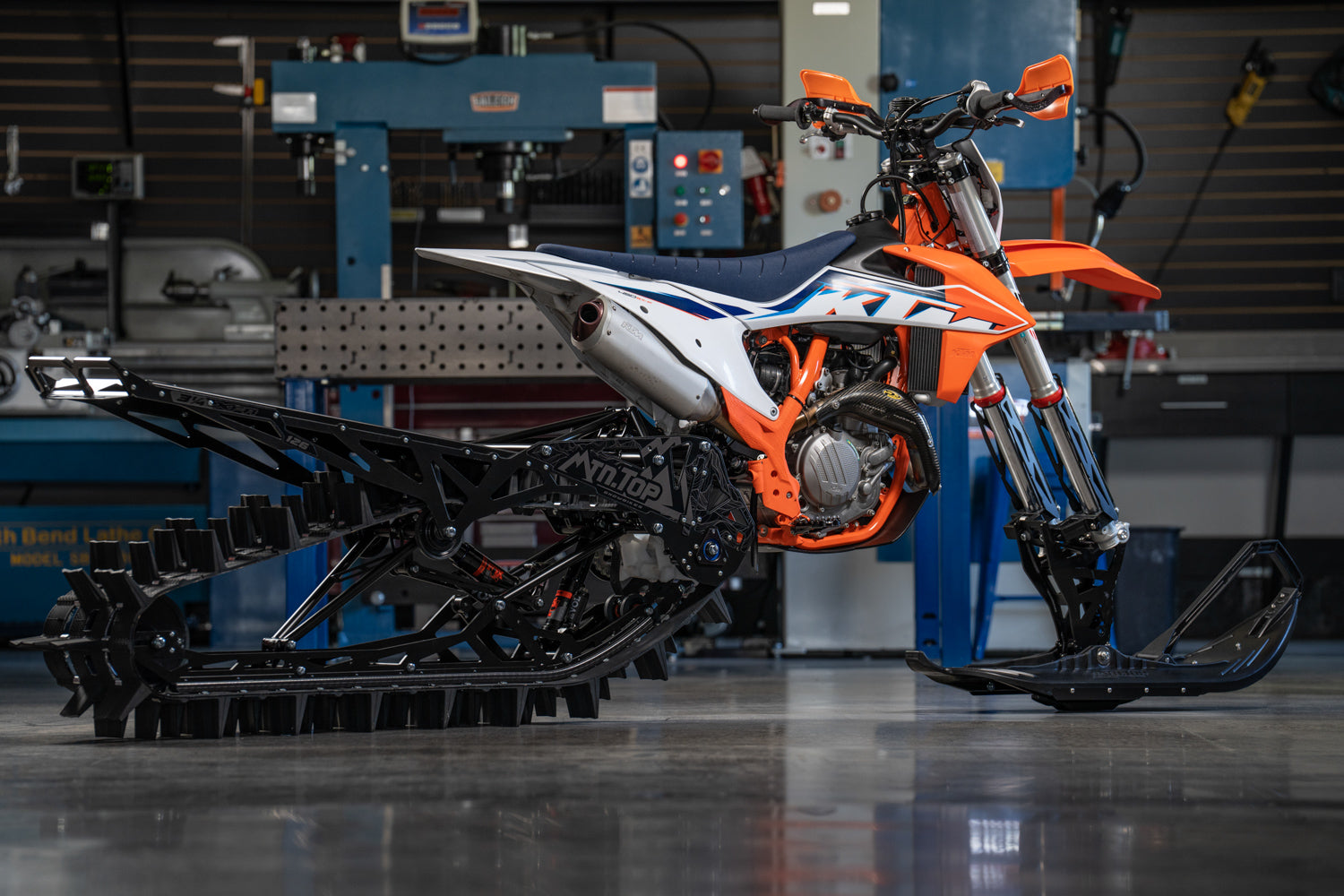 PERFECTED
MTN.TOP Products
Most snowbike experience in the industry. 
Built with pride in the Pacific Northwest, USA.
Each product is designed and  perfected by us.
Meeting our functionality and durability standards.